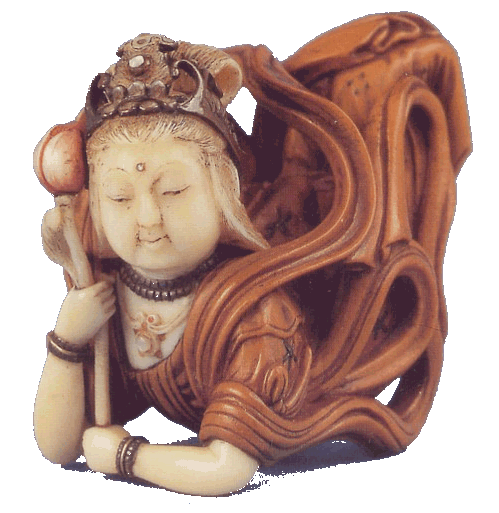 Netsuke of a tennin (Buddhist angel)
Signature Hoshu (Yoshihide)
Height: 1.7" (4.3 cm) — Japan, Meiji period
Bringing a Buddhist blessing...
The beautiful figure in flight depicted above bears a lotus bud, wishing a blossoming of enlightenment for those in her path. This netsuke of a tennin (Buddhist angel) captures perfectly the elegance, beauty, and compassion inherent in this subject. Depicted in Buddhist painting and sculpture for centuries, tennin accompany Buddhas & Bodhisattvas, wearing flowing celestial garments and gracefully hovering amidst an extravagant procession representing the richness of the soul in Buddhist philosophy.

The artist Hoshu, renowned for crafting netsuke with Buddhist themes, has created this treasure with a splendid array of materials. The body of the tennin is of delicately engraved ivory, rendering the facial features with an expression of benevolence. The lotus she carries is also formed of ivory, the bud delicately stained light red. The robes, carved of boxwood, rhythmically flow as the tennin glides through the air. The crown, necklace, and bracelets (traditional adornments for this type of Buddhist figure) are minutely crafted of silver and bronze, enhanced with mother-of-pearl inlay. Hoshu has added an exquisite touch, featuring his engraved signature on an inlaid silver tablet and his seal on an inlaid gold tablet.