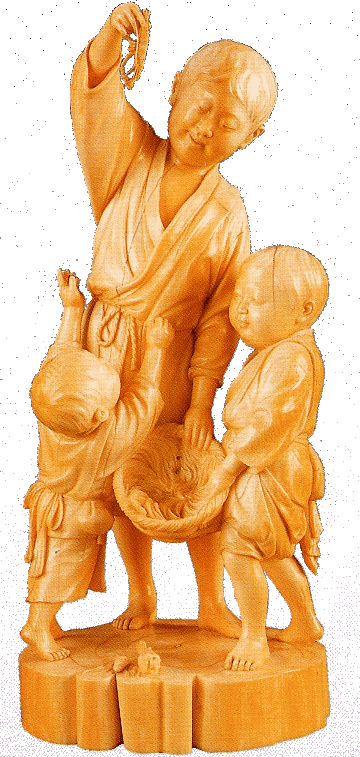 Ivory Okimono of three boys and ebi
Signed: (Yoshida) Homei
Height 12.5 inches (31.8 cm), Japan, c. 1910 (Meiji Period)
Reaching for greatness...
This strikingly realistic ivory okimono of three boys gathering fish along the shore is a tender depiction of rural Japanese life. It also imparts a powerful message to the Japanese mind and evokes the ambition of the artist, Yoshida Homei.
Two boys look on as their younger brother reaches for a dangling ebi (Japanese prawn). As the bent prawn resembles an extremely long-lived person, the ebi has come to symbolize longevity and good fortune. The carving can be seen as a charming metaphor, as the youngest yearns for responsibility and achievement.
Yoshida Homei trained with the award-winning Shimamura Shunmei, one of the most accomplished carvers of the late 19th century. He worked alongside famed Imperial Court artists Ishikawa Komei and Asahi Gyokuzan. Homei was acclaimed by Jiro Harada, foremost Japanese art critic of the Meji period, to be destined for greatness as the most important carver of his generation. Particularly noted was Homei's cleverness of composition and skill at naturalistic depictions. This can be seen in the wonderful expressiveness of each boy, the lifelike rendering of their postures and clothing, and the delicate treatment of the ebi. The okimono is especially remarkable as a large, intricate carving from a single piece of ivory.